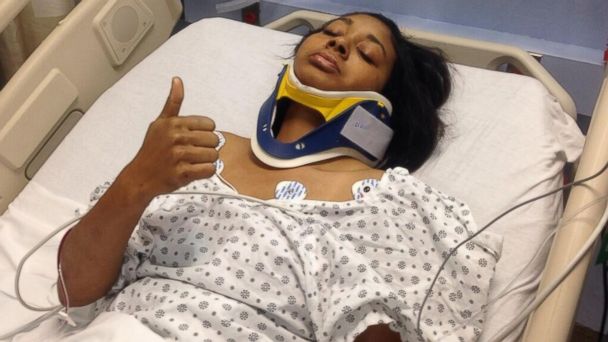 Comedian Injured by Train While Texting and Walking
A 25-year-old comedian has a seriously injured leg after she was struck by a train while texting and walking.  Liza Dye is currently recovering at Bellevue Hospital in NYC after she accidentally slipped and fell on the platform.  Unfortunately, Liza has no health insurance, but her comedian friends and other performing artists are coming to her aid by raising funds to cover her medical expenses.  The Upright Citizens Brigade Theater, where Dye regularly performs, will host a performance tonight featuring Josh Gondelman, Joe List, Sam Morrill, and Nore Davis.  In addition, The Stand in NYC will also host a fundraiser on March 5 featuring Janeane Garofalo, Amanda Seales, Pete Lee, Charla Lauriston and others.  You can also donate directly to the cause at this page.
Trains Conductor Sees Comedian Before It Was Too Late
Dye was run over by a southbound B train around 10 a.m. Thursday morning.  The train operator luckily saw her fall and was able to activate the emergency brake, but not before the train rolled over her legs.  She's been a trooper in the hospital, even making lighthearted tweets about her stay and posted a video on YouTube of her receiving morphine.
Tragic Story Highlights Dangers of Distracted Walking
In the past, I have highlighted the dangers of texting while driving, but I've also written about the dangers of becoming distracted by our cellphones in general.  For example, one study conducted in 2010 found that young people under the age of 30 are the most likely to suffer an injury while texting and walking.  Furthermore, another study in 2012 found that pedestrian injuries have quadrupled over the past seven years from walking while texting.  While Dye's story is tragic, it also highlights the importance of lifting our heads up from the screens that capture our attention and that could put us at risk of serious injury or even death.
recently named in the 2009 edition of Best Lawyer's In America, David Mittleman has been representing seriously injured people since 1985. A partner with Church Wyble PC—a division of Grewal Law PLLC—Mr. Mittleman and his partners focus on medical malpractice, wrongful death, car accidents, slip and falls, nursing home injury, pharmacy/pharmacist negligence and disability claims.