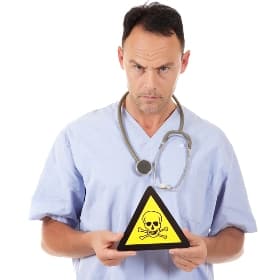 Addicted Medical Professionals Endanger Patients' Lives
A recent USA Today investigation found that more than 100,000 doctors, nurses, medical technicians or aids are dependent on prescription drugs, putting patients at serious risk.  While the problem of prescription drug addiction has received increased attention over the past few years as the problem has grown, less attention has been given to the same problem within the medical community.  Like others outside of the medical profession, addictions are commonly to prescription narcotics such as Fentanyl or Oxycodone.  What makes a medical professional's addiction is not just the fact that they are responsible for patients' health and well-being, but also their knowledge of these prescription drugs.  It is much easier for a medical professional to gain access to prescription drugs and know how to use them discretely compared to other addicts.
Oversight Lacking in Medical Environment for Prescription Drug Use and Abuse
The abuse of prescription drugs in medical settings has led to serious consequences for patients in recent years.  Take, for example, the widespread outbreak of Hepatitis C when David Kwiatkowski, a hospital technician in New Hampshire and other states, used patients' painkiller syringes to inject himself, refill them with saline, and then put them back on the tray.  That was the third Hepatitis outbreak since 2009 linked to a healthcare worker's use of patient syringes.  Many of the problems related to medical professionals' addictions to prescription drugs include a lack of oversight by hospitals (e.g. no drug testing, surveillance equipment, or reporting procedures), no standard disciplinary actions against those caught abusing prescription drugs, and often times the ability to return to work after completing a rehabilitation program without repercussion.
Problems for Medical Professionals That Lead to Drug Addiction
Unfortunately, it isn't just the precarious situation of patients that is worrisome in these scenarios.  The problem of addiction could stem from the high-paced, stressful atmosphere of the medical profession itself, driving some doctors and other medical professionals to turn towards prescription drugs to deal with these problems.  Many medical professionals don't know where to turn when faced with these problems, and once their addiction takes over, it becomes nearly impossible for them to reach out for help unless someone detects their problem from the outside.  It will take the joint cooperation of hospitals, medical professionals, policymakers and patients to work together to ensure patient safety from medical professionals' prescription drug addiction.
recently named in the 2009 edition of Best Lawyer's In America, David Mittleman has been representing seriously injured people since 1985. A partner with Church Wyble PC—a division of Grewal Law PLLC—Mr. Mittleman and his partners focus on medical malpractice, wrongful death, car accidents, slip and falls, nursing home injury, pharmacy/pharmacist negligence and disability claims.